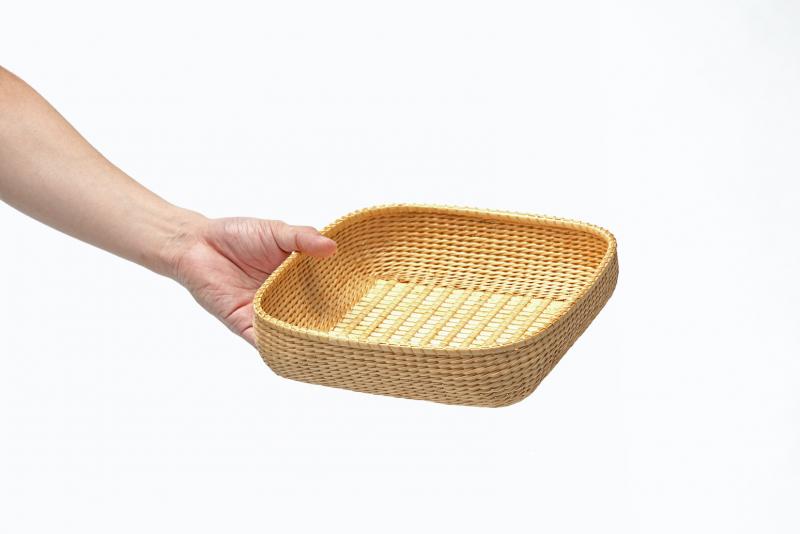 Karimoku's new Tokyo showroom hosts the digital collective's first physical exhibition.
Basketclub and Karimoku invite a group of twelve Basketclub designers to think about the uses behind traditional Japense woven baskets and how they may be reimagined today. For centuries, many regions in Japan have used baskets to solve a variety of everyday problems such as carrying, drying, storing, cooking and cleaning. Each area's unique result often tells the story of local culture. These themes will inspire each designer to come up with some new ideas for living.
ABOUT
BASKETCLUB
@basketclub www.instagram.com/_basketclub_
Each member of an international group including twelve design studios weaves a new basket every moth. A simple brief (presented as an emoji) dictates what the basket is meant to contain, allowing each designer to expose a unique point of view. At the end of the week, designers share their work on Instagram. The project not only connects designers who are passionate about basketry, but also exposes craft as a tool for interpersonal connection and creative exchange. Week after week designers respond to one another's work, resulting in a layered and interesting portfolio that explores the limits of this millenia-old tradition. While the works are physical, the presentation is digital. Every fourth
Friday, designers post their response to their own Instagram feed, and the collection is uploaded to the @_basketclub_ Instagram account.
Adrianus Kundert and Jamie Wolfond started Basketclub at the start of the Covid 19 pandemic. The two designers got in touch on Instagram after realizing that they had both taken an interest in weaving shipping straps. Starting with the cancellation of the Salone del Mobile in Milan, they both saw their creative outlets begin to dry up, and turned to weaving to stay active and engaged. After realizing that designers in their communities were having a similar experience and took a similar interest in the craft of weaving, they decided to formalize the idea, creating a digital environment where they could all share ideas and respond to one another.
ABOUT
KARIMOKU
www.karimoku.com www.instagram.com/karimoku_official
Karimoku Furniture Inc. is Japan's leading wooden furniture manufacturer with origins dating back
to the 1940s. Under the manufacturing concept of "high-tech and high-touch", Karimoku has been looking for the most ideal balance between machine-made and man-made, producing highly crafted, industrial objects with the Japanese sense of beauty, that will be loved as lifelong partners. Each of their domestic factories is specially developed to create and work with specific furniture categories, ensuring to produce the best quality furniture in the most reliable and efficient way.
Karimoku is also putting much effort to use unfamiliar woods for furniture such as thinnings, low-di- ameter woods and coniferous trees as well as sustainably grown hardwoods, especially for our new brands such as Karimoku New Standard, KARIMOKU CASE STUDY, MAS and Ishinomaki Laboratory by Karimoku. Karimoku's wood making knowledge enables to transform those wooden characters into technically and emotionally durable furniture.
DESIGNERS
Adrianus Kundert
Bertian Pot
Chris Kabel
Dach & Zephir
Earnest Studio
Esmé Hofman
Greatminor
Jamie Wolfond
Keiji Ashizawa
Samy Rio
Shigeki Fujishiro
Wiesi Will
EXHIBITION DIRECTOR
Wataru Kumano
ORGANIZERS
Adrianus Kundert Jamie Wolfond
QUESTIONS / IMAGES
jamie@jamiewolfond.com
DATE & HOURS
www.watarukumano.jp
www.adrianuskundert.com
www.jamiewolfond.com
12:00-18:00 (Mon-Fri)
11th of Feb – late march 2021
LOCATION
Karimoku Commons Tokyo 2-22-5, Nishiazabu, Minato-ku, Tokyo, Japan, 106-0031