Diverse door mij gevlochten objecten zullen te zien tijdens de Salone del mobile 2022 in Milaan bij het Italiaanse meubelbedrijf Poliform. Zij tonen een uitgebreide collectie design meubels. Poliform is topdesign uit Italië.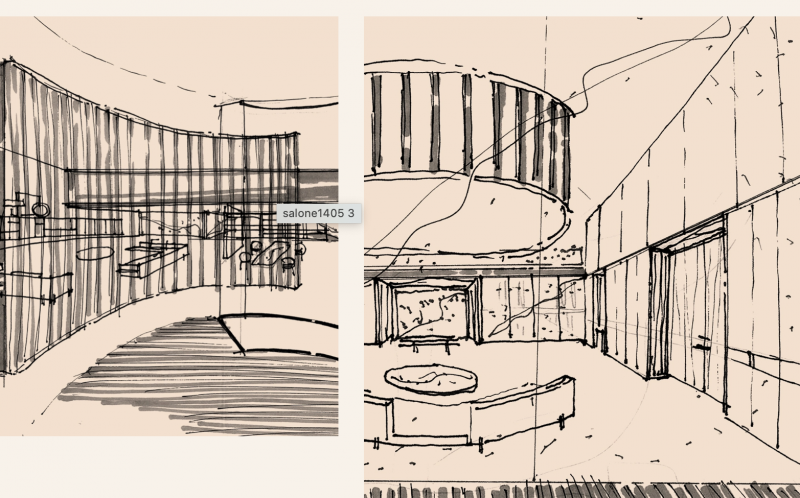 HABITAT
PERSPECTIVES
The Poliform display area begins from a large central piazza, a meeting point and gathering place for renewed contact with visitors, leading into a cozier domestic setting, like that of an exclusive residence. The interior space is organized in a fluid, coherent succession of refined rooms, from the daytime zone (living and dining) to the kitchen, the conceptual core of the design, all the way to the nighttime area. Facing outward, the space establishes ongoing dialogue with the surrounding garden, through large glass openings that allow the gaze to roam, in a harmonious interaction between interiors and landscape.
The architecture becomes soft and light, also thanks to equally delicate hues that set the tone of the atmosphere and the products themselves. The large systems become part of the structure, while the smaller items add touches of color, thanks to combinations of materials and finishes that stand out within the composition. The aesthetic and ethical tenets of Poliform take on a new, concrete impact: elegance, refinement, functional quality, durability, versatility, in the loftiest sense of the term design.
CONTEMPORARY
MOOD
The chromatic and material leitmotif is the range of warm tones, in hues of cream and beige, in tune with the allure of pale oak. The visual poise is emphasized by tactile perceptions: stone, various types of wood and fabrics create an all-around sensorial experience, enhanced by the use of new fibers with an authentic "green" spirit.
Bron:website Poliform